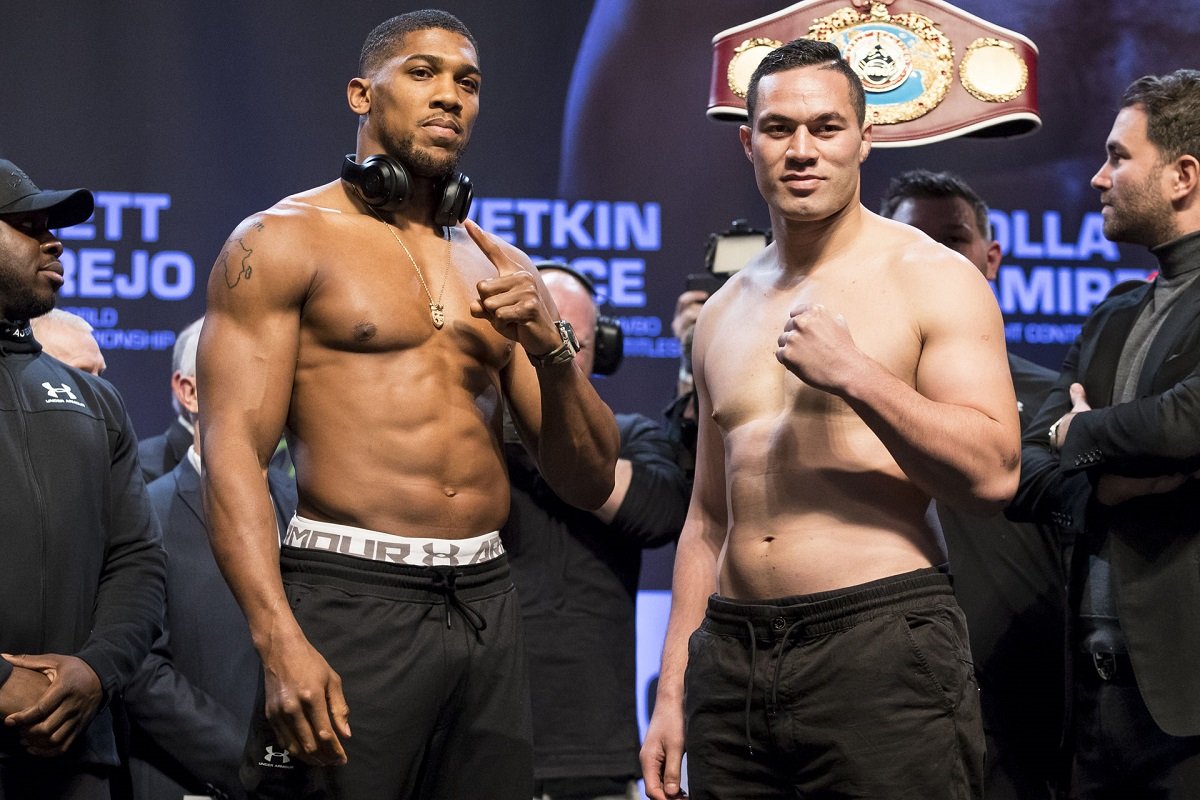 Selling out the best part of 100,000 seats in venues across the UK, Anthony Joshua's reign as heavyweight champion of the world is at Beatles-mania levels of popularity.
As charming outside the ring as he is devastating in it, in just 20 fights the 28-year-old has become a sporting phenome by knocking out all 20 of his opponents and unifying world titles. With talk of $500million contracts up next, it seems the world is his oyster.
Unfortunately for AJ though, it won't be a salty sea snack he is trying to crack next, instead it will be a tough-nut Samoan from South-Auckland. The most talked about arrival on UK shores since the Beast from the East, Joseph Parker is bringing the thunder from down under, as the 26-year-old puts his WBO world heavyweight title on the line to challenge for Joshua's IBF and WBA belts. Sporting a 24-0 record, Parker has earned his way to the very summit of boxing by knocking out 18 of his opponents and manoeuvring past the others.
It is in analysing his performances against most of those surviving six – most recently in his performances against Hughie Fury and Razvan Cojanu – that odds-makers, pundits and everyday fans have largely agreed that Parker will become the 21st fighter to be knocked out by Joshua.
Will it be that simple though? Even though in boxing a participant can only win, lose or draw, ironically, anything can happen. And on that, here is my attempt at working out the three most likely things we could see happen in this fight.
The long grind home for Joshua – 35% chance of this happening
It is undeniable that Joseph Parker showed issues in dealing with bigger and longer opponents Hughie Fury and Razvan Cojanu. Expected to win against both, Parker struggled to get beyond their reach advantages (4cm and 5cm respectively) to land anything more than the odd clubbing shot a few times a round. Against both, Parker also showed he can be picked off, due to an unremarkable level of head-movement, and a lack of guile in dealing with the range of bigger opponents.
So against Joshua, who has an even bigger reach advantage (6cm), is more explosive and even more powerful than anyone Parker has fought, surely this spells a routine blast-out win for the Olympic gold medallist?
Not if you consider the following.
Parker, despite his struggles, won both the aforementioned fights through his aggressive and methodical attacks. Showing speed in going from body to head, what Parker lacked in cunning he made up for in positivity. It is this willingness to put himself in the line of fire to get off his own shots that will make this into a grind for Joshua. Parker will come charging in, under, over and through Joshua's jab, attempting to land on the jaw his team have claimed is fragile for so long.
Parker has enough power to put any heavyweight on the back-foot in his right-hand and isn't afraid to pull the trigger, although should he be more frequent with it he would not have had the close-calls we saw against Carlos Takam and particularly Andy Ruiz Jr in his title winning fight, which many felt he had lost. In this fight and others though, it most also be noted that Parker showed a real champion's mentality in pushing hard in the dying rounds and going for the win.
And as for when Joshua lands, which he will, frequently and often easily, how will Parker take the power that has knocked out 100% of the people it his hit so far? The answer to that will only be seen when it happens. However, a real x-factor is the sheer toughness embedded in the Polynesian genes. The likes of David Tua, MMA's Mark Hunt and dozens of New Zealand rugby greats tell us these people can take a hit, and then some.
Another factor that isn't being discussed much is Joshua's weight situation. Whilst most see him coming in at 17.4stone as a positive, the fact he has not weighed this low since 2014 means he would have had to put his muscular frame through some massively draining work during training camp. Whilst this will definitely be conducive to him being light on his feet and dealing with Parker's speed, will it aid his cardio? Joshua's cardio has always been questioned but with two round 11 stoppages in his last two fights when weighing around 18 stone, could his team have been trying to fix something that wasn't broke? Combat sport history has shown that fighters can often damage their own cardio by draining themselves too much, and this is a real possibility with Joshua.
So don't be surprised to see this fight descend into a grinding, butting, intermittently brawling, bruising affair. The two will get tangled and tired as the fight drags on and each tries to land the telling blow. Joshua does not have the inside game to be able beat Parker in this kind of contest.
Parker will be durable enough to weather Joshua's storms but will not do enough to come out shining.
Parker is bombed out – 25% chance of this happening
You don't need rose tinted glasses to see Anthony Joshua has had as spectacular a rise in boxing as any fighter ever.
Being technically sound and having the fight intelligence to set-up shots, as well as counter punch, he has Lennox Lewis-esque traits, but finishes fights in a style as violently as a prime Mike Tyson. At times watching him is to wonder who could possibly stand his assault.
At the same time, Parker doesn't have much more than basic defensive skills and hardly a natural nous for being elusive. Couple this with the potential of Parker getting caught up in the headlights of an event bigger than anything he has been involved in before and no one would be shocked to see Joshua rock and then stop Parker early.
As mentioned earlier, Joshua is bigger, taller, heavier and more powerful. Parker's toughness and the fact he has never been put down in his professional (or apparently amateur) career has been hailed by his promotional team throughout the fight's build up, but the truth is he has never been hit by anyone like Anthony Joshua before.
The kind of power and speed Joshua has is guaranteed to be a shock to the system for Parker, whose best opponents thus far wouldn't be ranked in the heavyweight top five or arguably top 10. We are undoubtedly going to see Parker in some trouble at some point in this fight. How he is able to deal with this will determine how well he does in this bout. If he is – like all Joshua's other opponents – simply not able to deal with the power at all, it would result in the most anticipated outcome, which is a knockout for Joshua within six rounds.
Parker drowns Joshua late – 40% chance of this happening
Giving Parker just 40% chance to win in this fight, even as an undefeated world champion, is considered a reach by many. Too basic and too small, how can Parker possibly win?
Here is how.
As highlighted already in this article, Parker is a strong finisher. He is considered to be tough and will be willing to prove it. He is also not gun-shy. Light on his feet, Parker doesn't need the ability to find angles and time shots (which he lacks) to make this fight go way. In the early parts of this fight, all he needs to do is keep his distance and ensure he throws his powerful right-hand enough for Joshua to know he can't just walk through him.
Joshua can be patient. Against opponents like Dominic Breazeale  and Carlos Takam, he never over-exerted himself to force the finish even though he dominated every minute of every round up until it ended. Thus, it is fair to assume that against someone who is arguably faster and as powerful than anyone Joshua has faced before, there will be a lot of posing and posturing as he looks for an opportunity to finish.
And as he waits for that opportunity and the rounds drag on, we just may see Joshua – even at 17.4 stone – start to tire and slow. With Parker's natural inclination to finish fights strong, and a baying crowd screaming for action, if he is still around by the 10th, 11th and 12th rounds, the New Zealander will be driving on for the knockout.
Although definitely not the most likely scenario based on a logical look at both their careers thus far, it is undeniable that Parker could take advantage of Joshua's weaknesses and get himself one of the biggest upset wins in recent boxing history.