Rarely – if ever at all – has one person been so utterly revered by the world to have a pseudonym like "The Greatest" universally bestowed on them.
If one were to look through the pantheons of all the world's great sportsmen, politicians, musicians, artists and famous folk from all fields, the combined popularity of the most popular would barely come close to reaching the level of regard the world has for Muhammad Ali.
"The Greatest" is his nickname, a title that solely belongs to him, even though ironically the man himself claimed that Sugar Ray Robinson – the multi-weight champion that fought from the 40s to the 60s – was actually the best boxer in history (something nearly all boxing experts agree with).
Yet, the title is still completely apt for Ali. But if he is not the best boxer ever, then why is it an appropriate alias for the man from Louisville, Kentucky, USA?
The first reason why is because that is what Ali – even back when he was only known as Cassius Clay – called himself. Even before he had won a world title and apparently even when he was just a schoolboy running alongside of his school bus for fitness instead of riding it, Ali was claiming he would be the greatest of all time.
The second batch of reasons are more fitting for the title; Ali has had a boxing career unlike anyone other fighter. He was part of the greatest fight ever, pulled off two of the greatest upsets ever, fought in the greatest era ever, beat many of the greatest ever and fought in the biggest fight in history too. He even came through a round where he was not able to see (google the first Sonny Liston fight), something that probably not any other boxer can claim to have done.
And even with all these achievements, Ali's boxing career was always secondary to his convictions. Thus, why Ali is suitably called "The Greatest" could be the topic of a series of lectures. However, here are five reasons Ali really is the greatest.
In an era where Floyd Mayweather is calling himself #TBE (The Best Ever) and using his flawless record to back up this claim, it is important to note that Ali (who retired with a record of 56-5) has proven that in boxing, more can be achieved through performances then results. Even in his losses, by continually fighting the best available, Ali has reached the status where he is a certified top five in the argument for the best boxer ever (along with the likes of Henry Armstrong, Sugar Ray Leonard, Willie Pep and Sugar Ray Robinson).
Firstly, Ali was an Olympic medallist in 1960, winning gold as a light-heavyweight, reaching the peak of what is possible as an amateur boxer.
As a professional, Ali fought Sonny Liston (twice), Joe Frazier (three times) and George Foreman, three men considered among the top 10 heavyweights ever. In six fights against these men he lost just once. In his first fights against Liston and against Foreman, Ali was a 7-1 underdog. Both wins were some of the biggest sporting upsets in history. It is hard to find a fighter that has even fought – let alone beat – this kind of level of competition (especially in their primes).
Only five months into his comeback following his three-year ban for refusing to be drafted into the US army for the Vietnam war, Ali took on Joe Frazier in 1971, who at the time was a unified world champion, undefeated in 26 fights, winning 23 of those via knockout. Yet Ali fearlessly took him on in what was called "Fight of The Century" between two undefeated heavyweight champions. No fight in boxing history has ever come close the magnitude of that fight, and if any fight has then it is the "Rumble in the Jungle" bout between Ali and Foreman.
Ali's rivalry against Frazier culminated in the infamous "Thrilla in Manilla" fight which is largely viewed as the greatest fight of all time; 14 brutal and brilliant rounds of high-contact action between two of the very best. Neither man was ever the same after that fight which leaves all those who have seen it in awe. Ali won the fight only after Joe Frazier was pulled out of the fight before the last round because of the punishment he was taking. Rumour has it that Ali himself asked to pull out of the fight at the exact same time, but Frazier's corner were quicker to do it.
Ali also beat many contemporary greats such as Earnie Shavers (regarded as arguably the most powerful puncher in boxing history), Ken Norton (considered the best heavyweight to never win a world title) and the likes of Floyd Patterson, Archie Moore and Ron Lyle.
The bottom line here is that through his achievements – being involved in exciting, big fights, against the best possible – Ali earned his self-given title of "The Greatest".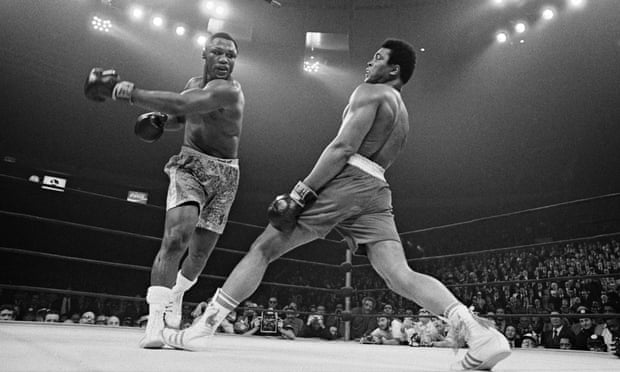 In life sometimes it is not always about what you do, it is also about how you do it.
Ali became one of the greatest boxers of all time in a style that no other heavyweight had ever shown. In fact, it is possible to say no other heavyweight has even been able to fight in the style Ali used.
More like a welterweight than a heavyweight, he was uniquely fast for a heavyweight in every way. His hand speed bedazzled, his footwork mesmerised and his reflexes hypnotized.
Ali was also more daring then any heavyweight in history. In a division of big men where anyone is capable of a one punch knockout, people were astonished to see Ali with his hands down, dodging punches by leaning and swaying, something no boxing coach would ever advise doing.
The fact one of his moves is now cemented in boxing and mimicked by many but still always referred to as the Ali shuffle shows just what an impact his very style of boxing has had on the sport.
His character and personality
Loud, brash and witty, Ali oozed charisma, with his very being demanding the spotlight whatever the occasion. Ali's unbridled confidence made the public want to tune in to fights like they had never done before.
Nowadays we see the likes of Connor McGregor and Floyd Mayweather trying to play that role in an attempt to create interest around them, but what Ali did was simply be himself. There are stories from his time in the Olympic village in 1960 where he went around introducing himself to athletes as the future greatest of all time.
This kind of boastfulness actually made him unpopular with most, as he broke the mould of the demure humble African-American athlete most were used to.
He sold himself in such fashion because he believed it. Ali was more determined then he was talented, which says a lot for just how determined he is. Becoming the greatest was his aim from the very beginning.
With his personality, Ali singlehandedly changed how fights were promoted. Prior to fights he would be predicting the round within which he would win, he was making poems, throwing insults and generally whipping up a media frenzy of coverage before his fights. From him stems how we see modern day combat sports advertised (and even WWE!).
There was a defiance and confidence about Ali. Even when near crippled with Parkinsons later in life, he still gave his all to be the one to light the Olympic flame for the Atlanta Olympics in 1996. It is this type of determination and confidence which made him such a fierce activist too. In this way, Ali's very character is a huge part of what made him "The Greatest".
Above everything, what made Ali standout was how he fearlessly placed his convictions above everything, never attempting to hide his beliefs.
This is often looked at in a positive way but it must be remembered Ali consistently referred to "the white man" as his "enemy" and "the devil". Ali also spoke at a Ku Klux Klan rally where he openly agreed with their views of race segregation. In a day and age where Tyson Fury is being vilified for some of his own views, it would be wise to remember Ali also said a lot people did not care for.
Most famously, in 1967 Ali was banned from boxing for refusing the draft into the US army for the Vietnam war. At the height of his career, an undefeated and popular world champion in his prime at 25 years old, Ali refused to sacrifice his principles to save his career, famously saying "I aint got no quarrel with them Vietcong".
The confidence, determination and fearlessness he displayed in the ring was also on display in public spheres when talking about politics, civil rights and activism.
This kind of conviction is why people readily bestow him the title the "The Greatest".
All of the above would not mean much if Ali was stuck in an ivory tower, revelling in his own achievement (ala Kanye West).
But this was never the case with Ali. Many a great champion boxer – Mike Tyson and Oscar De La Hoya to name just two – have regaled a tale of inspiration about the time Muhammad Ali casually walked into their boxing gym, engaging with all in his own affable manner.
When out in Africa for the "Rumble in the Jungle" Ali ran through the streets of Zaire (now Congo), he did not have lines of security keeping people away from him. He ran with the people.
During his ban from boxing from 1967-1970, Ali was a regular at civil rights rallies all over America. When visiting the UK, rather than meeting with royalty or political elites, he was in places such as Brixton in London and Handsworth in Birmingham meeting with the locals.
Even after his retirement, when he was finding it difficult to move and speak, Ali was still regularly making charity appearances, hospital visits and more.
Through these types of acts, Ali proved he was truly the champion of the people, and therefore "The Greatest".